Pool Status 09/17/19
THE POOL IS CLOSED.
__________________________

For the week of August 28th
We are in the heat of Summer! Now is the time to be mowing your lawn at a taller mow height. We recommend mowing lawns at a minimum of three inches in the heat of summer to ensure the turf stays cool.

Based on current weather conditions, turf grass needs about one inch of water this week. Additionally, the weather forecast is calling for temperatures to remain high, so monitor your lawn and adjust your watering accordingly.

Different sprinklers apply water at different rates, but as an approximate guideline, you would need to run standard spray sprinklers a total of about 42 minutes for the week. Rotors apply water more slowly, so they need to run around 100 minutes over the course of the week to apply the same amount of water. If you have multi-stream rotators, you need to run those for 156 minutes for the week.

To determine how long to run sprinklers each watering day, divide the total minutes we've given by the number of days you will be watering this week. For example, if you water 3 days per week, you would run spray sprinklers for 14 minutes each watering day to apply the needed amount of water. Typical rotors would need to run 33 minutes on each watering day and multi-stream rotators for 562 minutes each watering day.

Additionally, instead of applying all the water in one cycle, break up the watering into three shorter cycles separated by an hour or so. That would mean running spray sprinklers 5 minutes each cycle, rotor sprinklers for 11 minutes and multi-stream rotators 14 minutes. This will help the water penetrate deeper into the soil.
___________________________
THE POOL IS OPEN!
Weather permitting, the pool will be open from 9:00am to 8:00pm daily. On Wednesdays, the pool will be open from 11:00am to 8:00pm.
Beginning Tuesday, September 3, the pool will be open, weather permitting from 11:00am to 7:00pm daily.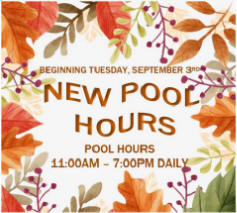 Everyone must have signed the new pool release to have access to the pool this summer. If you have not already signed the pool release, CLICK HERE for a copy. Once it is completed and signed, just drop it by the clubhouse office.